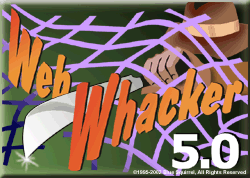 WebWhacker能對你喜歡的網頁進行檢查有沒有更新,可以檢查日常更新、每週或每月更新,並且可以下載其頁面,在任何時候都能運行WebWhacker和停止執行WebWhacker,相當方便。
開發商:Blue Squirrel
原廠網址:
http://www.bluesquirrel.com/products/webwhacker/
更新日期:2011/05/29
採購正式版、大量授權報價、技術支援、軟體諮詢、委託採購、詢問報價請來電 02-29299388 分機16 , 
來信service@orderble.com,或
點我
-----------------------------------------------------------------------------
特點:
拖動收藏夾或網址 WebWhacker拯救他們 permanantly。 (5.0新功能)
組織網絡信息的文件夾。
WebWhacker監測網站的更改和更新你每天,每週或每月的基礎。
節省磁盤空間,過濾掉無用的信息網頁。
附表WebWhacker下載信息在非高峰時間。
重複的目錄結構的Web站點。
為您提供一個清單上發現一個殘破的鏈接網站。


WebWhacker,第一個離線瀏覽器不斷的發展,是偉大的移動執行誰願意審查競爭對手的網站,而等候在機場,或誰需要一個網站介紹給那些互聯網接入是有限的。 

萬維網是一次強大的資源,和一個危險的操場。 隨著WebWhacker 5.0,您決定什麼您提供互聯網信息獲取的僱員。 下載喜愛的網頁或整個網站直接向自己的筆記本電腦,硬盤,台式機,Zip磁盤,光盤或存儲設備的分配。 網站可以瀏覽,好像他們上了線,並在高度加快速度。 
Features:
Drag Favorites or URLs to WebWhacker to save them permanantly. (NEW 5.0 feature)
Organize web information in folders.
WebWhacker monitors Web sites for changes and updates you on a daily, weekly, or monthly basis.
Save disk space by filtering out useless information from Web pages.
Schedule WebWhacker to download information during off-peak times.
Duplicate the directory structure of a Web site.
Provides you with a list of broken links found on a Web site.


WebWhacker, the first offline browser ever developed, is great for the mobile executive who wants to review a competitor's Web site while waiting at the airport, or who needs to give a web presentation where Internet access is limited. 

The World Wide Web is at once a powerful resource, and a dangerous playground. With WebWhacker 5.0, you decide what Internet information you make available for access to employees. Download favorite web pages or whole web sites directly to your own laptop, hard drive, desktop, zip disk, CD, or storage device for distribution. Sites can be browsed as if they were online, and at highly accelerated speeds.