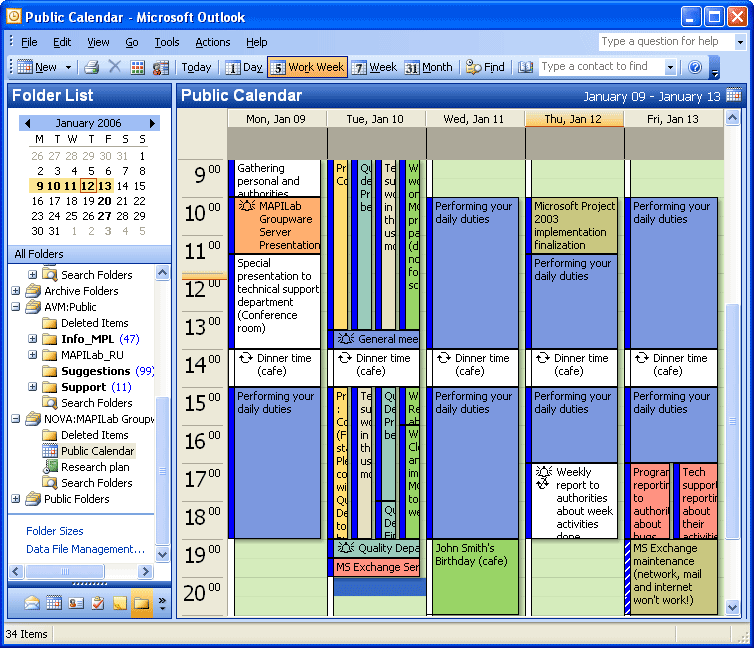 MAPILab Groupware Server 是一個Outlook 文件夾共享工具,可以在不使用Microsoft Exchange Server的情況下,讓你的團隊成員實時共享Microsoft Outlook 文件夾,並且授予管理這些文件夾的權利。



開發商:MAPILab Ltd.
原廠網址:http://www.mapilab.com/groupware/server/
更新日期:2011/05/30
採購正式版、大量授權報價、技術支援、軟體諮詢、委託採購、詢問報價請來電 02-29299388 分機16 , 
來信service@orderble.com,或
點我
-----------------------------------------------------------------------------





想像一下,您的任務列表營銷部門在今後一個月。 這一計劃已經提交大會上,確定了管理。 該計劃的副本已送交每個人都在銷售部門通過電子郵件,例如,為一個文本文件。 在這種情況下,評估該計劃的完成點只能發生在每天或每週的會議,其中每個人的報告對他目前的工作狀況。

可以使用此計劃更有效? 可以接收的信息管理任務的狀態在目前的時刻?

創建一個計劃在Microsoft Outlook中的日曆格式。 安裝 MAPILab群件服務器。 該部門主管的計算機將作為服務器這一進程(這將不會減慢計算機的性能本)和其他團隊成員可以訪問此服務器作為客戶。 日曆放置在MAPILab群件服務器上的Microsoft Outlook條系主任的計算機,指定訪問權限為團隊成員。

現在,任何團隊成員都可以不僅能得到該工作計劃,同時也可以完成的工作發表評論,問題已經發生,或額外的資源,這可能需要。 真實的情況,在任何特定時刻可以進行評估,所有團隊成員和監察部門負責人。

我們給予一個例子使用一個共享的日曆在Microsoft Outlook中的組織小組的工作。 但 MAPILab群件服務器可以提供共享訪問的幾個要素的Microsoft Outlook:

共享信息文件夾:
假設你有兩個銷售經理,都與接收電子郵件,並擁有自己的地址:sales_manager1@company.com和sales_manager2@company.com。 隨著 MAPILab群件服務器安裝,一個共同的文件夾中接收郵件使用一個電子郵件地址,如sales@company.com,可以考慮創建訪問不僅對兩個銷售經理,但也給銷售部門主管。 其結果是:一個方便的電子郵件地址,完整的透明度,所有有關各方,監督管理的內容和/或反應時間的反應。
共享聯繫人:
你有幾十個供應商和一些管理人員,每個工作組有不同的供應商。 MAPILab群件服務器安裝和共享聯繫人文件夾創建,與所有供應商的聯繫信息,讓一個新的經理或其他授權的僱員,以獲取必要的信息的任何供應商。
共享任務:
有一種情況類似於共享日曆以上:想像你的工作計劃,任務清單與個別員工共享訪問到一個文件夾與這些任務,利用MAPILab群件服務器。
共享筆記:
一個共享文件夾的基礎上MAPILab注意到群件伺服器允許所有用戶發布和閱讀筆記。 例如,非正式通知有關當事人,公司康樂活動等

服務器軟件的一部分,可以安裝在任何用戶的計算機上具有管理員權限給一個或多個用戶。 安裝和設置非常簡單,直觀。
從員工的角度來看,一個文件夾中MAPILab群件服務器看起來像一個共享文件夾的Microsoft Outlook和行為完全像一個文件夾在Microsoft Exchange服務器:在準確的時刻,有人創建了一個新的元素在該文件夾,它是可見在用戶的微軟 Outlook文件夾。
像微軟之間的連接 Outlook和Microsoft Exchange服務,連接 Microsoft Outlook和MAPILab群件服務器根據工程的MAPI協議。 這確保客戶協同工作,實時。
進口域和本地用戶。 有沒有需要添加新用戶或每個客戶端分別,而是他們可以導入從 Active Directory和用戶可以連接到服務器使用他們的姓名和密碼的域。
Imagine the task list of your marketing department for the coming month. This plan has been presented in a general meeting and confirmed by management. A copy of the plan has been sent to everyone in the marketing department by email, for example, as a text file. In this case, evaluating completed points of the plan can only happen in daily or weekly meetings, where each person reports about the status of his current tasks.
Can work with this plan be more effective? Can management receive information about task status at the present moment?
Create a plan in Microsoft Outlook's calendar format. Install MAPILab Groupware Server. The department head's computer will function as the server for this process (this will not slow down the performance of this computer), and the other team members can access this server as clients. Place the calendar in the MAPILab Groupware Server section of Microsoft Outlook on the department head's computer, and designate access rights for team members.
Now any team member can not only get access to the work plan, but can also comment on accomplished work, problems which have arisen, or additional resources which may be required. The real situation at any given moment can be evaluated by all team members and monitored by the department head.
We have given an example of using a shared calendar in Microsoft Outlook for the organization of group work. But MAPILab Groupware Server can supply shared access to several elements of Microsoft Outlook:
Shared message folders:
Suppose you have two sales managers, both work with incoming email messages and have their own address: sales_manager1@company.com and sales_manager2@company.com. With MAPILab Groupware Server installed, a common folder for incoming mail with ONE email address, like sales@company.com, can be created with access given not only to the two sales managers, but also to the head of the sales department. The result: one convenient email address, complete transparency to all relevant parties, monitoring by management of the content and/or the reaction time for responses.
Shared contacts:
You have dozens of suppliers and several managers, each working with different groups of suppliers. MAPILab Groupware Server is installed and a shared contact folder is created, with contact information for all suppliers allowing a new manager or other authorized employee to get any necessary information about any of the suppliers.
Shared tasks:
A situation analogous to the shared calendar above: imagine your work plan as a list of tasks for individual employees with shared access to a folder with those tasks, using MAPILab Groupware Server.
Shared notes:
A shared notes folders based on MAPILab Groupware Server allows all users to post and read notes. For example, informal announcements about parties, company recreational events, etc.
A server part of the software can be installed on any user's computer with administrator rights given to one or more users. Installation and set-up is simple and intuitive.
From the employee's standpoint, a folder in MAPILab Groupware Server looks like a shared folder of Microsoft Outlook and acts exactly like a folder in Microsoft Exchange Server: at the exact moment that someone creates a new element in the folder, it is visible in the user's Microsoft Outlook folder.
Like the connection between Microsoft Outlook and Microsoft Exchange Serve, the connection between Microsoft Outlook and MAPILab Groupware Server works according to the MAPI protocol. This insures that clients work together in real time.
Importing domains and local users. There is no need to add each new user or client separately, rather, they can be imported from the Active Directory and the users can connect to the server using their names and passwords for the domain.