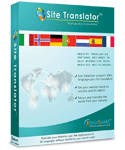 Site Translator是專為網站所有者和網站開發誰需要一個簡單的,做自己動手解決網站的語言翻譯。 通過幾次鼠標點擊,您可以翻譯幾乎任何網站設計網頁時,ASP.NET,PHP中,PHP3,或PHTML成多種語言。
它翻譯成只有您的網頁內容和葉源代碼不變。 它智能識別和翻譯的短語和句子在你的網頁源代碼。
創建和維持一個多語種網站的鏈接結構是很困難的開發人員。 網站翻譯解決了這個問題的所有內部管理翻譯過程中網頁上的鏈接。 鏈接到外部網站是沒有改變。
網站翻譯使用的自動機器翻譯技術。 這允許它翻譯整個網站在數分鐘內。 翻譯的短語都存儲在翻譯記憶庫,您可以輕鬆地修改,以提高準確性。
您還可以使用你的網站本地化翻譯。NET程序。 不要緊,你什麼語言編寫軟件英寸無論您使用VB.NET,C#或任何其他。NET語言,你可以把所有的標籤,菜單和其他文本中的任何。NET程序通過翻譯的。resx文件。 您可以使用網站翻譯翻譯文本儲存在XML文件。 語言不再是障礙!
開發商:DeskShare Incorporated.
原廠網址:
http://www.deskshare.com/st.aspx
更新日期:2011/06/01
採購正式版、大量授權報價、技術支援、軟體諮詢、委託採購、詢問報價請來電 02-29299388 分機16 , 
來信service@orderble.com,或
點我
-----------------------------------------------------------------------------
隨著網站翻譯,您可以:
轉換你的整個網站到您需要的語言,而無需編輯每個網頁。
本地化。NET的軟件翻譯的RESX資源文件。
讓你的網站上列出的特定語言搜索引擎。
提高翻譯質量,修改已翻譯的短語。
維持一個多語種的網站,幾乎沒有努力。
網站翻譯目前支持以下語言:
加泰羅尼亞
捷克語
荷蘭人
菲律賓
法國的
匈牙利
意大利的
波蘭語
西班牙語
土耳其

克羅地亞
丹麥的
英語
芬蘭
德語
印度尼西亞
挪威
葡萄牙
瑞典
Site Translator is designed for web site owners and web developers who need a simple, do-it-yourself solution to web site language translation. With a few mouse clicks, you can translate virtually any site designed in HTML, ASP.NET, PHP, PHP3, or PHTML into multiple languages.
It translates only the content of your web pages and leaves the source code unchanged. It intelligently identifies and translates phrases and sentences within your web page source code.
Creating and maintaining a multilingual web site link structure can be difficult for developers. Site Translator solves this problem by managing all internal page links during translation. Links to outside web sites are not changed.
Site Translator uses automated machine translation technology. This allows it to translate entire Web sites in minutes. The translated phrases are stored in the Translation Memory, which you can easily modify to improve accuracy.
You can also use Site Translator to localize your .NET programs. It doesn't matter what language you write software in. Whether you use VB.NET, C# or any other .NET language, you can translate all the labels, menus and other text in any .NET program by translating the .RESX files. You can use Site Translator to translate the text stored in any XML file. Language is no longer a barrier!
With Site Translator you can:
Convert your whole site to your desired language without editing each page.
Localize .NET software by translating the RESX resource files.
Get your web site listed on language-specific search engines.
Improve translation quality by modifying the translated phrases.
Maintain a multi-lingual web site with almost no effort.
Site Translator currently supports these languages:
Catalan
Czech
Dutch
Filipino
French
Hungarian
Italian
Polish
Spanish
Turkish

Croatian
Danish
English
Finnish
German
Indonesian
Norwegian
Portuguese
Swedish