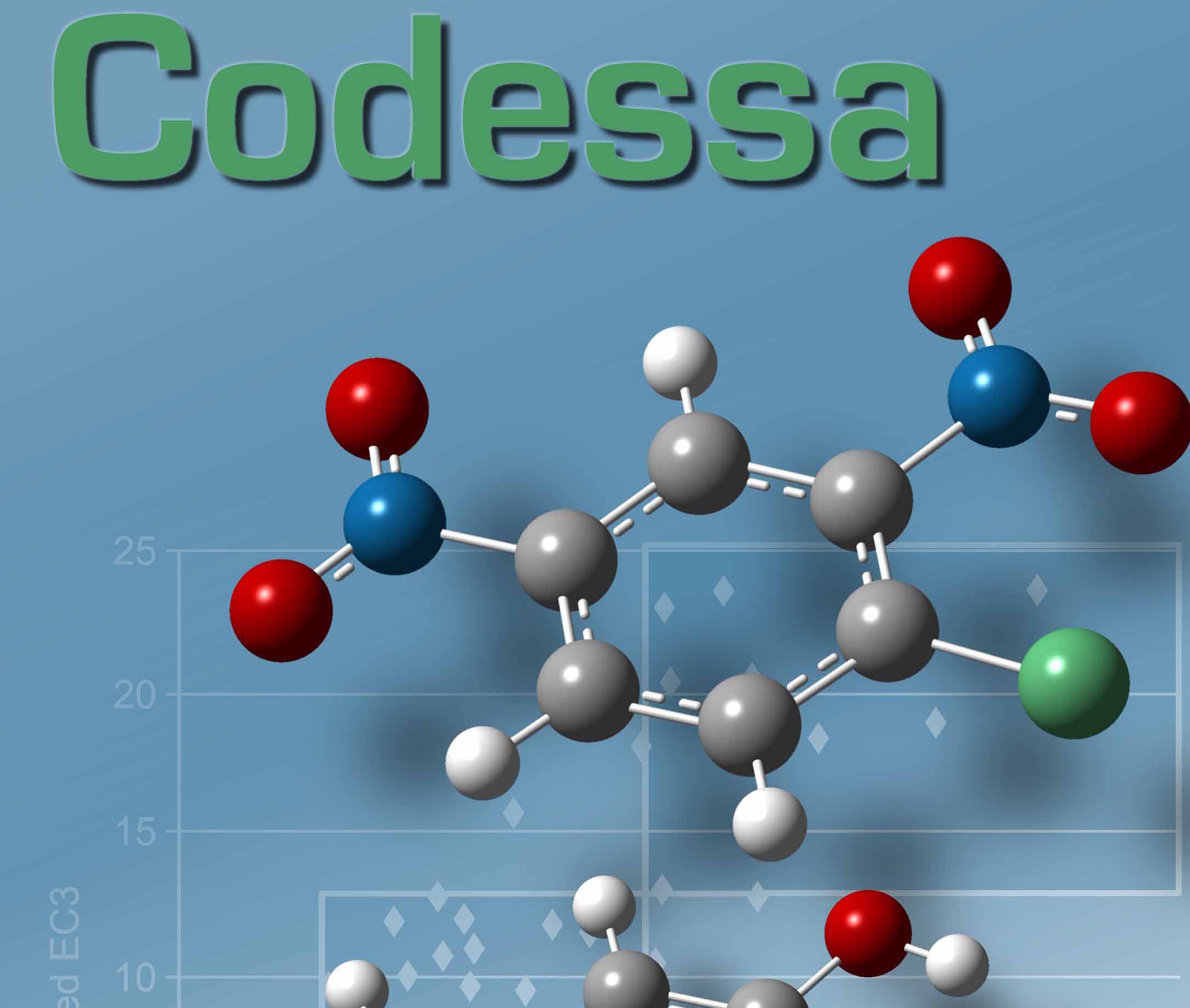 CODESSA是一個高級的,具有全面描述符的定量構效關係(QSAR)和定量構性關係(QSPR)程序,該程序將AMPAC和其它QM程序與實驗數據關聯在一起。

這些程序一起,使得研究者能回答一些重要的問題。 無論在學術領域還是在商業領域,一些已經發表的文章顯示了CODESSA和AMPAC在預測如氣相色譜的保留順序,聚合物的玻璃化溫度,臨界膠束濃度,毒性,沸/熔點,以及閃點等性質方面的功效。
-----------------------------------
原廠網址:
http://www.semichem.com/codessa/default.php
更新日期:2011/05/11
採購正式版、大量授權報價、技術支援、軟體諮詢、委託採購、詢問報價請來電 02-29299388 分機16 , 
來信service@orderble.com,或
點我
------------------------------------------------------------------------------

CODESSA™ Features
Powerful and Easy to UseSet Up Correlation Calculations


A series of intuitive dialog boxes in CODESSA's graphical interface guides you through the process of setting up the correlation, pairing property values with data files and determining which descriptors are to be computed.
Display Correlation Results
The GUI display the property data plotted against the computed multilinear regression line from the correlation equation.
Predict Values Using Existing Correlations
CODESSA's PREDICT module is an automated utility that takes an existing correlation and determines a predicted value for that property, managing both AMPAC and CODESSA.
View Details of Descriptors
The convenient interface will show detailed information about descriptor values at each atom in the molecule.


CODESSA Computes 600+ Descriptors from AMPAC Results
Constitutional



Simple descriptors reflecting the molecular composition of the molecule including numbers of atoms, numbers of atoms of a specific element, numbers of different types of bonds, rings, and molecular weight. Relative and average descriptors in this category are derived from various combinations.


Topological





Topological descriptors (also called topological indices) describe the atomic connectivity in the molecule. CODESSA calculates the following standard indexes: Weiner (atomic distance matrix), Randic (connectivity patterns) and Kier-Hall (connectivity), Kier (shape and flexibility), Balaban's J index and various information content descriptors (total, structural, complementary, bonding).



Geometric

The optimized 3D structure from AMPAC is used to compute values describing: moments of inertia, 2D shadow areas, molecular volume, molecular surface area and gravitation indexes.  


Electrostatic

Quantum mechanical results from AMPAC provide the charges needed to compute this information which includes: minimum and maximum charges, absolute atomic charges, Zefirov partial charges, dipole moments and molecular polarizability. and a wide array of charged partial surface areas.




Charged Partial Surface Areas

This important set of descriptors was invented by Peter Jurs and are among the most frequently cited in the literature, and are intuitively related to many chemical and biological properties.  The portions of molecules assigned a positive or negative charge, the total surface area, relative values and differences between these quantities all have chemical significance and are computed automatically by CODESSA.




Quantum Chemical

These indexes represent the majority of the descriptors that CODESSA computes.  Many are computed directly from molecular wavefunctions and include: quantum mechanical energy (electronic, nuclear attraction/repulsion) distributions, ionization potentials, electron affinities, and resonance/exchange energies.  Other descriptors are computed from various characteristics of the molecular orbitals and include: HOMO/LUMO energy gap, MO energies, bond orders and nucleophilic/electrophilic reactivity indexes.  Various values describing solvation energies are also available from the QM information including the Kirkwood-Onsager cavitation indexes. 




Thermodynamic (QM)

CODESSA's thermodynamic descriptors are available from analyzing the vibrational modes predicted by AMPAC.  Various partitions of the vibrational, rotational and translational energies complement  informative combinations of heat of formation, entropy and normal modes 




Construct Custom Descriptors

Combine existing descriptors using mathematical operations to 

create new descriptors

. . Experiment and follow your intuition. As good as CODESSA may be, 

you

 still know more chemistry!

Advanced Correlation Development and Statistical Analysis
Heuristic Descriptor Selection and Correlation

The selection of the best subset of descriptors from the hundreds available in CODESSA is critical for derivation of reliable correlations. CODESSA's heuristic method (unique to CODESSA) follows a sensible and intuitive pathway for eliminating variables from consideration. Further statistical tests are applied to the remaining descriptors, producing a 

ranked set of the best correlations

, rated by various quality indexes.




Multilinear Regression

Correlation equations can be derived with different numbers of descriptors.  As with all methods  in CODESSA, the regression correlation coefficient (R2), 

F

-ratio, standard deviation, and standard error are listed for the overall correlation and 

t

-test values for each parameter are also provided.




Best Multilinear Regression

BMLR is an automated procedure to suggest which correlation might account for the most variation.




Cluster Analysis

The data can be examined using 

principal components analysis (PCA)

 or nonlinear iterative least squares (NIPALS). The goal of Cluster Analysis is to reduce the dimensionality of a data set of with a large number of interrelated variables, retaining as much as possible of the original variation in the data set.