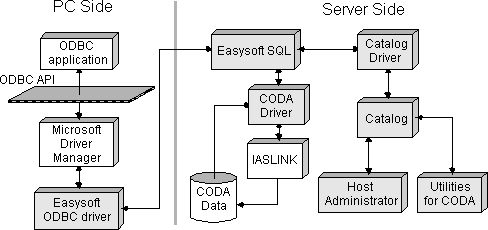 Easysoft ODBC-CODA Driver是一個可以讓ODBC激活的Windows應用程序,如Microsoft Excel 和Lotus 1-2-3 讀取位於OpenVMS服務器上的CODA Financials IAS數據的連通工具。
ODBC函數調用是通過從 Windows的ODBC驅動程序的數據訪問軟件安裝在服務器上的OpenVMS等。 下圖說明了產品的多層次結構。



該 Easysoft ODBC的尾波驅動程序:

強制執行 CODA集團安全模型,以防止未經授權的訪問或修改。
驗證所有CODA集團與 IASLINK更新,確保完整,尾波分類帳。
提供Easysoft Excel加載宏的尾波模塊自動執行許多常用功能,如上傳的預算或期刊和發電的標準報告,如損益報表和試算表。


ODBC function calls are passed from a Windows ODBC driver to data access software installed on the OpenVMS server. The following diagram illustrates the product's multi-tier architecture.





The Easysoft ODBC-CODA Driver:
Enforces the CODA security model to prevent unauthorised access or amendments.
Validates all CODA updates with IASLINK, ensuring the integrity of the CODA ledgers.
Provides the Easysoft Excel Add-In for CODA module which automates many common functions, such as the uploading of budgets or journals and the generation of standard reports such as Profit & Loss statements and Trial Balances.