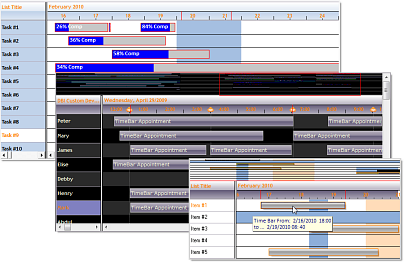 管理程序源代碼的日程和計劃。 解決方案::日程被設計用來為視窗程序開發人員在進行應用程序開發的,它提供了一個增強的可供拖拉的程序源代碼日程用戶界面。 我們為用戶提供的開發包包括範例程序(完全的VB源代碼),通過這些範例程序可以幫助用戶快速掌握在開發應用程序時所需的控件間如何交互工作方面的知識。 Solutions Schedule完全符合微軟的對象鏈接和嵌入技術標準,因此可以完美地支持在網絡應用程序和ASP.NET解決方案中的程序開發,並且,我們還為用戶保留了諸如胖用戶界面和完全地拖拉特性。
-------------------------------------------------
開發商:DBI
原廠網址:
http://www.dbi-tech.com/ProductPage_SolutionsSchedule.aspx
更新日期:2011/05/18
採購正式版、大量授權報價、技術支援、軟體諮詢、委託採購、詢問報價請來電 02-29299388 分機16 , 
來信service@orderble.com,或
點我
------------------------------------------------------------------------------
7.0版本中的新增功能:
支持可擴展標記語言(XML)的輸入和輸出:可以閱讀和寫入到可擴展標記語言數據。
內建遠程可擴展標記語言文件功能:可以從本地、局域網、寬域網或互聯網服務器讀取可擴展標記語言文件。
內建對JPEG格式圖像的支持:將日程發佈到互聯網和將圖像添加到報告中。
內建時間線支持:ctSchedule支持從分鐘到年的之間增量。 同時,附加的功能允許程序開發人員自定義時間線的表達方法(例如,對周數、月數、季度數和周數的文本或顏色的自定義)。
提供列表首&規則的選擇功能:通過完整的標題和顏色條控制器支持增強的時間線顯示功能。
7.0版本中的改進功能:
拖拉功能:控制器支持在控制器內部的列表部分、日程和時間工具條進行拖拉操作(只適用於支持拖拉功能的集成開發環境的ActiveX控制器中)。
顏色條功能:添加顏色區域以增強可讀性。
內建的打印功能:現在支持了對頁腳、標題字體、標題隊列和隱藏位圖等特性。
通用的特性:插入日程條款,控制垂直滑動,最小化時間條寬度、對列表頭和規則的XP風格填充。
  ctSchedule對像是具有完整特性的日程系統控制器。 ctSchedule允許程序開發人員在開發的應用程序中快速地添加僱員日程或源代碼日程。 作為一款ActiveX控件,ctSchedule還為程序開發人員提供了打印日程、分配時間線、分配源代碼工具條、改變瀏覽間隔尺寸(放大或縮小)和創建各種時間條風格等諸多的功能。
ctSchedule控制器包括如下區域:
標題區:標題區包括了列表列的標題,可選的列數為100列。
規則區:規則區在標題區右邊,並且和標題區等高。 它包含用來組成日程的時間數據。
列表區:列表區在標題區下端。 包含了所有條款(item)的列表信息(例如,僱員、資源等信息)。 列表區可包含32,000個條款和100列。
日程區:日程區包含了時間條或每個條款的日程信息。 每個條款可以含有32,000個時間條。
Manage resource scheduling and planning. Solutions::Schedule is designed to provide Windows Developers with an enhanced drag and drop resource scheduling user interface for their applications. The package includes sample applications (complete with Visual Basic source code) that illustrate the use and interactivity of the component in a working application. Like all DBI COM components, Solutions::Schedule adheres to Microsoft's OLE standards allowing perfect implementation in Web applications and ASP.NET solutions, maintaining the rich user interface and full drag and drop capabilities we have come to depend on.

New in V7.0:
XML Import & Export Support: Read and Write to/from XML data and optionally include presentation detail
Remote XML File Support: Read XML files from local, LAN, WAN resources or web servers
JPEG Support: Publish schedules to the web and add images to reports
Time Lines: ctSchedule now handles increments from minutes to years. Additional functionality allows developer definition of time-line presentations (ie text and colors for weeks, months, quarters, week number)
List Header & Ruler Options: Enhance time line presentations with full control of captions and color bars
Improved in V7.0:
Drag and Drop: The control now accepts drag and drop operations into the list part of the control, the schedule, and the time bars. (Only in IDE's that support drag and drop in an ActiveX control)
Color Bars: Add areas of color to enhance readability
Built-in Printing: Now supports options for page footers, title fonts, title alignment, and masked bitmaps
General Features: Insert schedule items, Manipulate vertical scroll, Minimum time bar width, XP Style fill patterns for the list headers and ruler
The ctSchedule object is a full-featured scheduling system control. ctSchedule allows you to quickly add employee or resource scheduling to your applications. This ActiveX component gives you the ability to print schedules, assign time lines or bars to a resource, change the viewing granularity (zoom in and zoom out), and create a wide variety of time bar styles.
The ctSchedule control contains the following sections:
Title: The title section contains the titles for the list column. The Title section can contain up to 100 columns
Ruler: The ruler section is to the right of the Title section and is the same height as the Title section. It contains the time data used to make up the schedule
List: The list section resides under the Title section. It contains the list of all items. (ie. employees, resources, etc. ) The list can contain up to 32,000 items and up to 100 columns
Schedule: The schedule section contains the time bars or schedules for each item. Each item can have up to 32,000 time bars