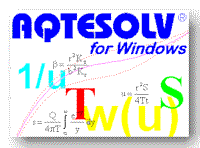 AQTESOLV的發展使試驗設計及解釋更加高效,大大簡化了複雜多變系統的分析。
-------------------------------------------------
開發商:HydroSOLVE, Inc.
原廠網址:
http://www.aqtesolv.com/
更新日期:2011/05/18
採購正式版、大量授權報價、技術支援、軟體諮詢、委託採購、詢問報價請來電 02-29299388 分機16 , 
來信service@orderble.com,或
點我
------------------------------------------------------------------------------
最近增強
 4.5版 

| | |
| --- | --- |
| | Tartakovsky -紐曼 解決方案抽水試驗在潛水含水層的3 - D飽和/非飽和流 |

| | |
| --- | --- |
| | 多爾蒂-巴布 解的逐步縮編測試在承壓含水層與井筒儲存 |

版本4.0

| | |
| --- | --- |
| | 恆頭性能測試 解決方案 |
| | 地下水位隔水層 的解決方案 |
| | 阿加瓦爾方法 回收分析 |
| | 距離縮編 圖 |
| | 水平井 |
| | 觀測井的響應延遲 |
| | 地下水mounding (Hantush解決方案) |

| | |
| --- | --- |
| | 達岡 塞測試解決方案 |
| | 廣義徑向流模型 (巴克解決方案) |
| | 裂隙含水層段塞測試解決方案 |
| | 滲漏含水層逐步縮編測試 |
| | 新一代自動圖像以及 |
| | 解決方案專家 |
| | 新的和改進的HTML幫助系統 |

3.5版本
3.0版

欠阻尼(振動)蛞蝓測試 解決方案
正解嚮導 (預測)
多井段塞測試 分析
摩擦損失以及

 為塞測試

同時視覺曲線匹配 的位移和衍生數據
快速秘訣

| | |
| --- | --- |
| | 密閉雙含水層系統 (紐曼-威瑟斯龐解決方案) |
| | 垂直和水平裂縫 的解決方案 |
| | 攔截海溝 解決方案 |
| | 公斤彈頭試驗模型 |
| | 診斷流程地塊 |
| | 主動型曲線 |
| | 輪廓 |

點擊 這裡查看 詳情最新版本!
主要特點
點擊圖片詳情 ...
單井及多井測試解決方案

AQTESOLV 是一個 完整的 含水層的測試軟件包,提供了最 方法 確定含水層性質的 單 和 多井 測試配置為 抽水試驗和蛞蝓測試!

現在您可以使用 AQTESOLV 對數據進行分析,從 不斷頭測試!

阿加瓦爾方法回收分析

AQTESOLV 包括方法的 阿加瓦爾(1980) 分析 恢復測試。 Agarwal的方法, 讓你恢復數據的分析與制定標準曲線提取分析。 例如,您可以使用熟悉的曲線泰斯(1935)或紐曼(1974)解決方案以滿足恢復數據。

廣義徑向流模型

AQTESOLV 包括 廣義徑向流模型 的巴克(1988)分析 抽水試驗 和 不斷頭測試。 廣義徑向流模型允許您分析積分和非整數流的尺寸和裂隙含水層是有益的。

自動圖像生成井

使用 AQTESOLV 分析有界含水層抽水試驗(例如,斷層,溪流和鋼帶蓄水層)。 只要輸入邊界位置和AQTESOLV 將生成所需的井陣列圖像自動為您!

解欠阻尼彈頭試驗

AQTESOLV 包括 解決方案 巴特勒(1998年),斯普林格- Gelhar(1991年)和巴特勒戰(2004) 分析一個 欠阻尼振盪反應測試塞 在高K局限和潛水含水層。 AQTESOLV 還實現了一個校正 以及摩擦損失 小直徑井(巴特勒2002年)。 點擊 這裡 的 視頻 演示!

單 斷口解

選擇 AQTESOLV 獲得 先進的解決方案 與分立的含水層 垂直 (導電均勻流量和無限)和 橫向 平面骨折!

雙解的承壓含水層系統

AQTESOLV 包括一個 複雜的解決方案 由紐曼和威瑟斯龐(1969)分析一個 密閉兩個含水層系統的洩漏。 在分析縮編泵浦含水層中,弱透水層和含水層unpumped!

攔截

 海溝解決方案

使用 AQTESOLV 含水層進行試驗的 補救 戰壕 與默多克的解決方案(1994年)為分析流動到一個 攔截海溝。

直觀的數據集 嚮導

AQTESOLV 簡化 數據輸入 與 抽水試驗的嚮導, 彈頭測試嚮導, 常頭測試嚮導 和 正解嚮導 (含水層試驗設計)。 每個嚮導提示與技巧相結合的圖形和提示,幫助您準確,高效地輸入數據。

多功能導入嚮導

在幾秒鐘內輸入字段的數據與易於使用的和靈活的 導入嚮導 (另一個 AQTESOLV 第一)! 該嚮導包括有用的轉換功能測試測量進口從最熱門的數據記錄器(包括 原位 和 Solinst 產品)。 使用 導入嚮導 來 檢查數據在外地!

AQTESOLV 還可以 複製和粘貼數據從電子表格 (例如,Excel)。

輕鬆訪問電子表格中的數據

你要 編輯一個數據點 在圖上? 只需雙擊它,會出現一個電子表格與設點自動為您!

情節診斷

國家的最先進的 診斷圖 幫助你 選擇合適的解決方法 為您的測試數據和減少不確定性,確定井筒存儲,斷裂流量等重要條件是必不可少的透徹分析了含水層的考驗。

 
解決方案專家

AQTESOLV 介紹了 解決方案專家,一個直觀的工具,旨在幫助您找到合適的解決方法為您的含水層測試。 使用該解決方案專家選擇解決方案特徵(例如,井筒儲存,井筒皮膚等),並 AQTESOLV 自動顯示一個列表,解決的方法符合標準。

主動型曲線

AQTESOLV 介紹了 主動型曲線,一個創新功能的可視化曲線匹配,克服靜態類型的限制曲線用於傳統型曲線分析。 點擊 這裡 的 視頻 演示!

型曲線族

AQTESOLV 顯示 型曲線的家庭 ,你可以定制,以 方便視覺曲線擬合。

衍生匹配和分析

AQTESOLV 讓您執行 導數分析 和 互動式曲線匹配 與 合併位移衍生地塊 以 提高參數估計。

統計分析

AQTESOLV 幫助您評估 模型的擬合優的擬合 和 曲線擬合的統計 和 診斷地塊。

輪廓

AQTESOLV 自動顯示2 -或3 - D 等高線圖s 在計劃或橫截面視圖使用 衝浪。

為了 衝浪 ,當您購買 AQTESOLV 從HydroSOLVE!

 
Mounding

使用 AQTESOLV 來模擬 地下水mounding 下方矩形和圓形補給區的解決方案由 Hantush(1967)。

 
地下水模擬

AQTESOLV /建模臨 束 TWODAN,一個流行的地下水模型軟件包,與 AQTESOLV/專業。
Recent Enhancements
 Version 4.5 

| | |
| --- | --- |
| | Tartakovsky-Neuman solution for pumping test in an unconfined aquifer with 3-D saturated/unsaturated flow |

| | |
| --- | --- |
| | Dougherty-Babu solution for a step-drawdown test in a confined aquifer with wellbore storage |

Version 4.0

| | |
| --- | --- |
| | Constant-head test solutions |
| | Water-table aquitard solution |
| | Agarwal method for recovery analysis |
| | Distance-drawdown plots |
| | Horizontal wells |
| | Delayed observation well response |
| | Groundwater mounding (Hantush solutions) |

| | |
| --- | --- |
| | Dagan solution for slug tests |
| | Generalized radial flow model (Barker solution) |
| | Fractured aquifer slug test solution |
| | Leaky aquifer step-drawdown test |
| | Automatic image well generation |
| | Solution Expert |
| | New and improved HTML Help system |

Version 3.5
Version 3.0

Underdamped (oscillatory) slug test solutions
Forward solution wizard (prediction)
Multi-well slug test analysis
Frictional well loss

 for slug tests

Simultaneous visual curve matching for displacement and derivative data
Quick Tips

| | |
| --- | --- |
| | Confined two-aquifer system (Neuman-Witherspoon solution) |
| | Vertical and horizontal fissure solutions |
| | Interceptor trench solution |
| | KGS Slug Test Model |
| | Diagnostic flow plots |
| | Active Type Curves |
| | Contouring |

Click here for more details on the latest version!
Key Features
Click on the images for details...
Single-Well and Multi-Well Test Solutions

AQTESOLV is a complete aquifer test software package that provides the most methods for determining aquifer properties from single- and multi-well test configurations for both pumping tests and slug tests!

Now you can use AQTESOLV to analyze data from constant-head tests!

Agarwal Method for Recovery Analysis

AQTESOLV includes the method by Agarwal (1980) for analyzing recovery tests. Agarwal's method allows you to analyze recovery data with standard curves developed for drawdown analysis. For example, you may use familiar curves for the Theis (1935) or Neuman (1974) solutions to match recovery data.

Generalized Radial Flow Model

AQTESOLV includes the generalized radial flow model by Barker (1988) for analyzing pumping tests and constant-head tests. The generalized radial flow model allows you to analyze integral and nonintegral flow dimensions and is useful for fractured aquifers.

Automatic Image Well Generation

Use AQTESOLV to analyze pumping tests in bounded aquifers (e.g., faults, streams and strip aquifers). Just enter boundary locations and AQTESOLV will generate the required array of image wells for you automatically!

Solutions for Underdamped Slug Tests

AQTESOLV includes solutions by Butler (1998), Springer-Gelhar (1991) and Butler-Zhan (2004)for analyzing a underdamped slug test with oscillatory response in high-K confined and unconfined aquifers. AQTESOLV also implements a correction for frictional well loss in small-diameter wells (Butler 2002). Click here for a video demonstration!

Single Fracture Solutions

Choose AQTESOLV to get advanced solutions for aquifers with discrete vertical (uniform flux and infinite conductivity) and horizontal plane fractures!

Solution for a Confined Two-Aquifer System

AQTESOLV includes a sophisticated solution by Neuman and Witherspoon (1969) for analyzing aconfined two-aquifer system with leakage. Analyze drawdown in the pumped aquifer, the aquitard and the unpumped aquifer!

Interceptor

 Trench Solution

Use AQTESOLV to perform aquifer tests with remedial trenches with a solution by Murdoch (1994) for the analysis of flow to an interceptor trench.

Intuitive Data Set Wizards

AQTESOLV streamlines data entry with its Pumping Test Wizard, Slug Test Wizard, Constant-Head Test Wizard and Forward Solution Wizard (for aquifer test design). Each wizard combines graphical prompts with tips and hints to help you enter data accurately and efficiently.

Versatile Import Wizard

Enter field data in seconds with the easy-to-use and versatile Import Wizard (anotherAQTESOLV first)! The wizard includes useful conversion functions for importing test measurements from most popular data loggers (including In-Situ and Solinst products). Use theImport Wizard to check data in the field!

AQTESOLV also lets you copy-and-paste data from spreadsheets (e.g., Excel).

Easy Access to Data in Spreadsheets

Do you want to edit a data point on a graph? Just double-click it, and a spreadsheet appears with the point located for you automatically!

Diagnostic Plots

State-of-the-art diagnostic plots help you to choose appropriate solution methods for your test data and reduce uncertainty by identifying wellbore storage, fracture flow and other important conditions that are essential for thorough analysis of an aquifer test.

 
Solution Expert

AQTESOLV introduces the Solution Expert, an intuitive tool designed to help you find appropriate solution methods for your aquifer test. Use the Solution Expert to select solution characteristics (e.g., wellbore storage, wellbore skin, etc.), and AQTESOLV automatically displays a list of solution methods that meet the criteria.

Active Type Curves

AQTESOLV introduced Active Type Curves, an innovative feature for visual curve matching that overcomes the limitations of static type curves used in traditional type curve analysis. Click herefor video demonstrations!

Type Curve Families

AQTESOLV displays type curve families that you can customize to facilitate visual curve matching.

Derivative Matching and Analysis

AQTESOLV lets you perform derivative analysis and interactive curve matching with combined displacement-derivative plots to enhance parameter estimation.

Statistical Analysis

AQTESOLV helps you evaluate model goodness-of-fit with curve-fitting statistics and diagnostic plots.

Contouring

AQTESOLV automatically displays 2- or 3-D contour plots in plan or cross-sectional view usingSurfer.

Order Surfer when you purchase AQTESOLV from HydroSOLVE!

 
Mounding

Use AQTESOLV to simulate groundwater mounding beneath rectangular and circular recharge areas with solutions by Hantush (1967).

 
Groundwater Modeling

AQTESOLV/Modeling Pro bundles TWODAN, a popular groundwater modeling package, withAQTESOLV/Professional.