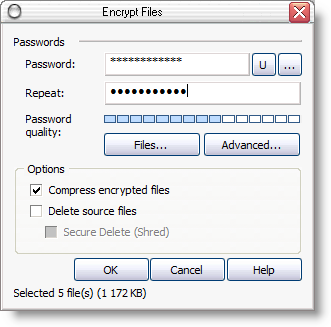 Advanced Encryption Package Professional是一個高級的的密碼外殼程序,製作出來的文件不需要AEP便可執行。 採行軍用級編碼標準,支持以448bit編碼的Blowfish和128bit編碼的DES.程序還支持面版更換。
------------------------------------------------------
開發商:InterCrypto Ltd.
原廠網址:http://www.aeppro.com/

更新日期:2011/05/09

採購正式版、大量授權報價、技術支援、軟體諮詢、委託採購、詢問報價請來電 02-29299388 分機16 , 

來信service@orderble.com,或

點我

------------------------------------------------------------------------------
易於使用 的新手。 它很好地與Windows資源管理器整合,使初學者容易。
強和行之有效的算法 ,以保護您的敏感文件(20加密算法)。
文件 和/或 文本 加密。
對稱和非對稱算法(17個數據破壞算法)。
安全的 文件 刪除。
使用USB閃存驅動器來存儲 [英文] -解密密鑰。
創建 加密的自解壓文件 發送它作為 電子郵件 attachement。 沒有額外的軟件需要在另一端!
完整的 命令行支持 完全 自動化 [英文] -解密任務。
Easy to use for novices. It integrates nicely with Windows Explorer and made easy for novices.
Strong and proven algorithms to protect your sensitive documents (20 encryption algorithms).
File and/or text encryption.
Symmetric and asymmetric algorithms (17 data destruction algorithms).
Secure file deletion.
Using USB flash drives to store [en]-decryption keys.
Creating encrypted self-extracting file to send it as email attachement. No additional software is required on other end!
Complete command line support to fully automate [en]-decryption tasks.