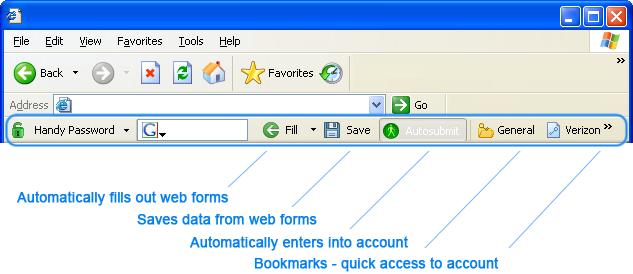 你有沒有想過你花了多少時間填寫表格,同時在網上衝浪? 每當你需要註冊一個論壇或聊天,開立賬戶或輸入您的郵箱,您需要 填寫表格。 有時,這些形式是真的,只需要一般的基本信息,如您和您的姓氏,您的登錄名和密碼。 然而,更多的往往不是你真正需要填寫詳細的和擴展的形式與眾多領域。

----------------------------------------------------
開發商:Novosoft LLC.
原廠網址:
http://www.handypassword.com/
更新日期:2011/05/09
採購正式版、大量授權報價、技術支援、軟體諮詢、委託採購、詢問報價請來電 02-29299388 分機16 , 
來信service@orderble.com,或
點我
------------------------------------------------------------------------------
Handy Password的優勢
除了填寫表格互聯網用戶往往阻礙了必要記住密碼。 有些人選擇保存密碼在本地計算機上,為了不忘記他們。 但在這樣做,你可以忘記你的密碼文件在存儲,它可能需要你不少時間才能找到它。 此外,手動保存密碼並不能保證需要的密碼安全級別,因為其他用戶誰可以訪問您的計算機可能一樣好有機會獲得您的密碼。 漢迪密碼的密碼管理和密碼管理保存和存儲您的登錄名,密碼和其他個人信息在一個地方在一個結構化的形式受到保護的主密碼,以便沒有人能夠訪問您的個人信息。 這裡有更多的好處 密碼管理:
Advantages of Handy Password as a Password Manager
Apart from filling forms Internet users are often hampered by the necessity to remember passwords. Some choose to save passwords on a local computer in order not to forget them. But in doing so you can forget where your password file is stored and it may take you quite a while to find it. Besides, saving passwords manually does not guarantee needed password security level because other users who have access to your computer may just as well have access to your passwords. Handy Password is password manager and password keeper that saves and stores your logins, passwords and other personal information in one place in a structuralized form under protection of Master Password so no one can ever access your personal information. Here are more benefits of password manager:
No need to remember passwords.
No need to save passwords with automatic password keeper.
All passwords and personal information are stored in one place.
Password manager saves passwords to a protected structuralized database.
Secure password storage of passwords and personal information in one database.
Secure protection against keyloggers and spyware.
Database on the email server so you could work with Handy Password even when you are not at home.