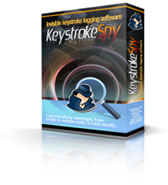 無形的擊鍵記錄軟件

按鍵Spy是一個具有成本效益的監測解決方案,讓您輕鬆,有效地記錄你的計算機用戶在做什麼。擊鍵Spy是一個功能強大的工具,它可以 記錄每一個按鍵的用戶類型 和 捕獲截圖的所有活動 。擊鍵間諜可以運行 總隱身,您發送電子郵件時輸入特定的關鍵字,通過電子郵件傳遞活動日誌,鏈接截圖的擊鍵記錄,甚至可以被設置為只記錄擊鍵輸入特定的應用程序和窗口。


---
開發商:Spytech Software
更新日期:2011/05/25
採購正式版、大量授權報價、技術支援、軟體諮詢、委託採購、詢問報價請來電 02-29299388 分機16 , 
來信service@orderble.com,或
點我
-----------------------------------------------------------------------------
OVERVIEW:

 記錄所有的鍵盤敲擊 
 捕獲截圖的一切活動 
 網站訪問日誌
 日誌應用活動 
 日誌發送聊天消息 
 日誌發送電子郵件
 日誌密碼
 日誌型文件 
 通過電子郵件發送活動日誌
 加密擊鍵日誌 
 可以登錄的具體應用 
 快訊特定詞組時,是類型化 
 強大的圖形界面 
 禁用間諜探測器
 在幾分鐘內安裝和監視器 
 運行在總計隱身!





Invisible Keystroke Logging Software
Keystroke Spy is a cost-effective monitoring solution that allows you to easily, and efficiently log what your computer users are doing. Keystroke Spy is a powerful tool that can log every keystroke users type and capture screenshots of all activities . Keystroke Spy can run in total stealth, email you when specific keywords are typed, deliver activity logs via email, link screenshots with keystroke logs, and can even be set to only log keystrokes typed in specific applications and windows.



 Logs all Keystrokes Typed 
 Captures Screenshots of All Activities 
 Logs Website Visits
 Logs Applications Activity 
 Logs Chat Messages Sent 
 Logs Email Sent
 Logs Passwords
 Logs Typed Documents 


 Sends Activity Logs via Email
 Encrypted Keystroke Logs 
 Can Log Specific Applications 
 Alerts when Specific Phrases are Typed 
 Powerful Graphical Interface 
 Disables Spyware Detectors
 Installs and Monitors in Minutes 
 Runs in TOTAL STEALTH!