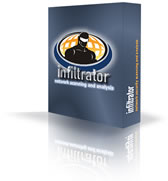 強大的網絡安全掃描與審計 
滲透是一種易於使用的,直觀的網絡安全掃描儀,可以快速 審核您的網絡計算機的漏洞,漏洞,以及信息枚舉。 滲透能揭示和目錄1過多的信息掃描電腦-例如安裝軟件,股票,用戶,驅動器,修補程序,NetBIOS和SNMP信息,開放端口和更多! 所有的結果可以生成到一個圓滑,易於閱讀的報告。
更新日期:2011/05/25
採購正式版、大量授權報價、技術支援、軟體諮詢、委託採購、詢問報價請來電 02-29299388 分機16 , 
來信service@orderble.com,或
點我
-----------------------------------------------------------------------------



主要特點:
信息採集
滲透可以枚舉用戶,文件共享,驅動器,打開的端口,註冊表項,安裝的軟件和修補程序,snmp的和NetBIOS表,密碼政策,以及更多從每個計算機掃描。


安全審核和分析
可以審核每個滲透掃描計算機的註冊表設置不當,可疑開放端口,弱勢服務,腳本漏洞,弱密碼政策和不正確的用戶配置。


生成光滑掃描報告 
滲透能產生短暫或完整的報告(可定制),詳細說明所有的掃描結果-幫助您得到一個概述您的網絡安全以及個人電腦的安全級別。


很多有用的網絡工具
滲透帶有許多內置的網絡工具-從鄧小平的whois查詢和彩票,以暴力破解工具和電子郵件跟踪-可以幫助您管理網絡和安全更放心。



Robust Network Security Scanning and Auditing 
Infiltrator is an easy to use, intuitive network security scanner that can quickly audit your network computers for vulnerabilities, exploits, and information enumerations. Infiltrator can reveal and catalog a plethora of information on scanned computers - such as installed software, shares, users, drives, hotfixes, NetBios and SNMP information, open ports and much more! All results can be generated into a sleek, easy to read report.
Key Features
Information Gathering
Infiltrator can enumerate users, file shares, drives, open ports, registry keys, installed software and hotfixes, snmp and Netbios tables, Password Polices, and much more from each computer scanned.  
Security Auditing and Analysis
Infiltrator can audit each scanned computer for improper registry settings, suspicious open ports, vulnerable services, scripting exploits, weak password policies, and improper user configurations. 


Generate Sleek Scan Reports 
Infiltrator can generate brief or complete reports (customizable) detailing the results of all scans - helping you get an overview of your network's security as well as individual computer security levels. 
 
Many Useful Network Utilities
Infiltrator comes with many built in network utilities - from whois lookups and ping sweeps, to brute force cracking tools and email tracing - that help you manage your network and security with greater ease.