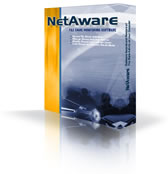 監控電腦的使用文件共享 
NetAware是一個監測解決方案, 記錄 和 記錄 所有的 共享文件活動在您的計算機或網絡。 NetAware可以記錄用戶訪問哪些文件,哪些股份,連接和斷開您的文件共享。 NetAware是第一個同類型的解決方案,讓您查看究竟是跟你的用戶共享文件時,從哪些計算機正在訪問他們,他們從。 NetAware也有一個內置的管理工具來管理共享的股票。



---
開發商:Infiltration Systems.
原廠網址: http://www.infiltration-systems.com/netaware.shtml
更新日期:2011/05/25
採購正式版、大量授權報價、技術支援、軟體諮詢、委託採購、詢問報價請來電 02-29299388 分機16 , 
來信service@orderble.com,或
點我
-----------------------------------------------------------------------------

功能強大,易於使用的界面
NetAware的易於使用的界面,您可以立即開始監視文件共享活動,您的計算機上-沒有浪費時間去'學習'的操作;界面讓你快速,方便地訪問到所有的強大功能。


文件共享活動日誌
NetAware誰可以連接到日誌文件共享您的計算機上,它們實際上是什麼文件打開和使用,而當他們從斷開的份額。 阻止訪問嘗試也可以登錄。 所有日誌條目時間戳,便於觀看。


用戶 /計算機阻塞
NetAware可以阻止不需要的遠程用戶和計算機可能會嘗試訪問共享您的計算機上。如果遠程用戶嘗試匹配你的標準是一個方面,他們立即停止查看您的股票。


電子郵件警報和更多!
NetAware可以向您發送電子郵件通知當用戶訪問共享您的計算機上。 您也可以在不需要通知用戶被封鎖! NetAware也有內置的共享管理,共享鎖定和解鎖,能夠斷開遠程用戶,以及更多!






Monitor Computer File Share Usage 
NetAware is a monitoring solution that logs and records allshared file activity on your computer or network. NetAware can log what files users access and what shares they connect to and disconnect from on your file shares. NetAware is a first of its kind solution that lets you view exactly what users are doing with your shared files, when,and from what computer they are accessing them from. NetAware also has a built in share manager tool for managing shares.
Key Features
Powerful, Easy to use Interface
NetAware's easy to use interface allows you to immediately start monitoring file share activity on your computer - without wasting time trying to 'learn' the software.The interface gives you quick, easy to access to all of its powerful features.
File Share Activity Logging
NetAware can log who connects to file shares on your computer, what files they actually open and use, and when they disconnect from the share. Blocked access attempts can also be logged. All log entries are timestamped for easy viewing.
User/Computer Blocking
NetAware can block unwanted remote users and computers that may try to access shares on your computer. If a remote user that matches your criteria attempts a connection they are immediately stopped from viewing your shares.
Email Alerts and More!
NetAware can send you email alerts when users access shares on your computer. You can also be notified when unwanted users are blocked! NetAware also has built in share management, share locking and unlocking, the ability to disconnect remote users, and much more!