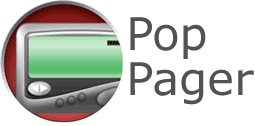 POPPager 可以監控某個POP3 信箱,當有新的郵件送達時,它可以透過調製解調器聯機到paging/SMS 服務提供商,將信件主旨傳送到您的手機或呼叫器。
---
更新日期:2011/05/25
採購正式版、大量授權報價、技術支援、軟體諮詢、委託採購、詢問報價請來電 02-29299388 分機16 , 
來信service@orderble.com,或
點我
-----------------------------------------------------------------------------
什麼是POPPager?

你需要接受重要訊息從你的同事或警報從關鍵任務系統 24 / 7? 如果是這樣,POPPager是一個完整的電子郵件到短信網關為您所有的傳呼和短信的需要。
POPPager是一個 輕量級的 應用程序運行在任何Windows 2000,Windows XP或Windows 2003系統。 它佔用不到1 MB的磁盤空間和運行中,只有6MB的內存。 這意味著 它可以運行在幾乎任何PC硬件無任何重大影響時的表現! 
如何POPPager工程?

POPPager是一個網關應用。 在網絡計算方面,網關是一個設備或程序,從一個轉換通訊協議,或格式,到另一個地方。 在這種情況下,POPPager更改郵件使用郵局協議(POP)到短消息服務(SMS)消息。 該網關功能使電子郵件消息被自動轉發到無線設備。
POPPager完成這一監測特定電子郵件帳戶的新郵件。 當它看到一個新的信息與無線設備數量,在主題行,此消息被轉發到無線設備。
在標準的,自由的配置,只有一個電子郵件帳戶可以發送郵件到該帳戶被監視的POPPager。 為了擴展功能的POPPager,註冊鍵可能會增加購買數量的電子郵件帳戶,可以通過發送郵件 POPPager。
What is POPPager?
Do you need to receive critical messages from your colleagues or alerts from mission-critical systems 24/7? If so, POPPager is a complete e-mail-to-SMS gateway for all of your paging and text messaging needs.

POPPager is a lightweight application that runs on any Windows 2000, Windows XP or Windows 2003 system. It takes up less than 1 MB of disk space and runs in only 6MB of memory. This means thatit can run on virtually any PC hardware without any significant impact upon performance!
How POPPager Works?
POPPager is a gateway application. In network computing terms, a gateway is a device or program that transforms communications from one protocol, or format, to another. In this case, POPPager changes messages using the Post Office Protocol (POP) into Short Message Service (SMS) messages. This gateway functionality allows e-mail messages to be automatically forwarded to a wireless device.

POPPager accomplishes this by monitoring a specific e-mail account for new messages. When it sees a new message with the wireless device number in the subject line, this message is forwarded to the wireless device.

In the standard, free configuration, only one e-mail account may send messages to the account being monitored by POPPager. To extend the functionality of POPPager, a registration key may be purchased to increase the number of e-mail accounts that can send messages via POPPager.

A basic diagram illustrating the function of POPPager is found below.