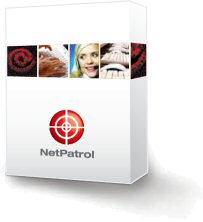 NetPatrol是一個複雜的系統網路和個人電腦入侵檢測和預防系統軟體。 
以綜合和靈活的規則為基礎的分析引擎,NetPatrol將監測、分析,並提醒您的內部和外部的網絡威脅,包括病毒的特徵污染物。結合溫蓋特 NetPatrol提供了一個集成的解決方案,使WinGate軟件動態地響應網絡威脅的檢測。
NetPatrol is a sophisticated Intrusion Detection and Prevention System for networks and individual machines. Featuring a comprehensive and flexible rules-based analysis engine, NetPatrol will monitor, analyse, and alert you to internal and external network threats including traits of virus contaminations. Combined with WinGate, NetPatrol provides an integrated solution enabling WinGate to dynamically respond to detected network threats.
---
開發商: Qbik New Zealand Limited
更新日期:2010/8/10
採購正式版、
大量授權報價、技術支援、軟體諮詢、委託採購、詢問報價請來電或來信 
02-8231-5565 , service@orderble.com
---
入侵檢測系統
從經驗與 WinGate軟件 - Qbik的全面代理服務器解決方案,Qbik認識到,一個合乎邏輯的和必要的補充將是一個入侵檢測系統,能夠監測,分析和報告可疑的網絡行為和網絡流量從 WinGate軟件和互聯網服務器。 目前NetPatrol經營作為一個獨立的監測系統,提供相關交通信息,提高對可疑的網絡入侵警報或攻擊。
監
視器一台機器或整個網絡
NetPatrol可以設置為監控所有網絡連接的機器上已經安裝,並提供一份詳細的報告,網絡數據,是給那些接口。 或者,它可以被設置為"混雜模式",其中將監控所有網絡流量在所有的以太網段的NetPatrol的機器連接到。
隨著"危險水平"監測,NetPatrol將試圖衡量行為和嚴重程度的數據活動,並作出相應的反應。 它可以被配置為處理某些類
型的網絡行為的基礎上的一套規則,管理員可以配置取決於他們的安全報告要求。
可升級的模塊化系統
NetPatrol是建立在頂部安裝的模塊,具有一定的任務分配給每個。 正因為如此,NetPatrol可以作為一個分佈式入侵檢測系統,使更高的性能和更好的比例處理 /丟失的數據包上高負載網絡。
會議的重建和調查工具
所有的IP流量可以被記錄和會話重建。 阿圖的水平,顯示當前的攻擊威脅等級。 從主顯示器,源或目標計算機可以進行調查。
端口監視器工具可讓您看到您的應用程序在做什麼
此外還包括Qbik PortList工具,使之易於實時監測所有連接,然後從本地計算機和進程負責。 連接和終止程序可以很容易地從主屏幕。 即使系統服務可以被終止。
Hack attempts and other attacks from the Internet are becoming increasingly complex and better-concealed. As a result many common firewall solutions are simply not sophisticated enough to detect them. Realising the need for a packet-level network traffic monitoring system that can detect these types of malicious activities, Qbik embarked on a development effort to provide a tool for network administrators aimed at just this need. Qbik is now proud to provide its solution - called NetPatrol.
Intrusion detection system
From the experience gained with WinGate - Qbik's comprehensive proxy server solution, Qbik realised that a logical and necessary complement would be an intrusion detection system that could monitor, analyse and report on suspicious network and Internet traffic behaviour to and from the WinGate Internet server. Currently NetPatrol operates as a stand alone monitoring system, providing relevant traffic information, and raising alerts about suspected network intrusions or attacks.
Monitor a single machine or an entire network
NetPatrol can be set to monitor all network connections on the machine on which it is installed, and provide a detailed report on network data that is addressed to those interfaces. Or it can be set to "promiscuous mode" where it will monitor all network traffic on all the ethernet segments that the NetPatrol machine is connected to.

With a "danger level" monitor, NetPatrol will attempt to gauge the behaviour and severity of the data activity, and respond accordingly. It can be configured to handle certain types of network behaviours based on a set of rules that administrators are able to configure depending on their security reporting requirements.
Scalable Modular system
NetPatrol is built on top of installable modules, with certain tasks assigned to each. Because of this, NetPatrol can be used as a distributed IDS system, allowing for higher performance and better ratio of handled/lost packets on highly-loaded networks.
Session reconstruction and investigation tools
All IP Traffic can be logged and sessions reconstructed. A graph of attacks level indicates current threat level. From the main display, Source or Destination computers can be investigated.
Port Monitor tool allows you to see what your applications are doing
Also included is the Qbik PortList tool, allowing easy real-time monitoring of all connections to and from the local machine and the processes responsible. Connections and processes can be easily terminated from the main screen. Even system services can be terminated.